The Untitled Blog Post from a Cast Member With a Really Long Title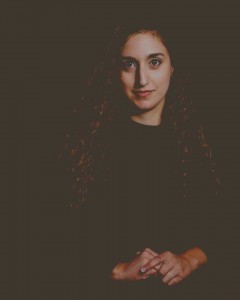 We asked cast member and Hideout Theater graduate, Cristy Salinas, to talk about her experience with the upcoming student mainstage show:
There's buzz. Murmurs. Excitement. All surrounding the Hideout Theatre's last student mainstage of 2016: The Untitled Avant-garde Theater Project With a Really Long Title.
There's a story, and then there's not.
There's not necessarily main character, but there could be.
There's self-expression until there is collective expression.
It's all of the things and none of them at the same time.
It's avant-garde.
It's been an honor working alongside a diverse group of improvisors –– diverse in that we all have different life experiences and backgrounds and varying degrees of improv and theater training. This mish-mash has resulted in an ensemble cast that trusts one another, takes risks together, and isn't afraid to throw the traditional rules of improv out the window (while still keeping some of the rules in our back pockets).
Personally, putting this show together has felt a lot like a democracy. Director Jon Bolden has empowered us to express our opinions and share ideas on how to build this show. Of course, the running theme in rehearsals has been "Why not? It's avant-garde!" But that has also opened up a whole new world of ideas. I've never been in a show where I also had control of the light board to set a mood or reflect a mood that has already been set on stage, or had access to props that could be construed as something other than they really are. A piece of fabric in my hands can be the wind, it can be a representation of feelings of loneliness, or it can simply be a blanket to keep me warm. There's no right or wrong in this show. The only "wrong" thing we can do is be too afraid to act on an inclination or idea. We're free to "follow our feet" as we wish.
Although this show, in description, may come across as strictly a parody of avant-garde theater, it also leans heavily towards a pastiche or homage to the art form. Sure, there will be moments where the audience can't help but laugh at some of the things we do on stage. We do love to be silly after all. But there may also be moments filled with love, sorrow, anger. We hope to bring the audience along with us as we experience all of these emotions. This is meant to be experienced together. All feelings are welcome.
So, what is this show really about? To me, it's about artistic freedom of expression. Each show will have its own inspiration and theme that will come about organically. There's no formula, although you may see some similarities from show to show. (After all, we live in a society. There needs to be an introduction, intermission, and end within a 90-minute timeslot.) But you may not find an act structure, story spine, or traditional roles of protagonist and antagonist. Or perhaps you may. That's what makes being part of this show so much fun.
–– Cristy Salinas
See The Untitled Avant-garde Theater Project With a Really Long Title at The Hideout Theater
Saturdays, Nov. 26th – Dec. 17th at 6pm
Tickets: $10
Comments (0) | Post a Comment