Once a year, The Hideout assembles a full weekend of improvised one-act plays. Austin is at the forefront of narrative, theatrical improvisation, and The Improvised Play Festival is a celebration of that.
The schedule is packed with The Hideout's own repertoire of shows, other local shows, and special out-of-town guests from Vancouver, Atlanta, and Amsterdam!
Excited? Here is the complete schedule for 2019:
All shows are 50 minutes long, except for Grand Misery, Small Town Girl, La Vida de los Muertos, and Big Gay Musical, which are about an hour and 45 minutes long.
Thursday, February 21st:
8pm (up): Fistful of Kicks (Vancouver) / Dark Side of the Room (Atlanta)
9pm: (down): La Vida de los Muertos
10pm (up): Twins / ROOK
11pm (up): Narrative Jam
Friday, February 22nd:
8pm (up): Dark Side of the Room (Atlanta)
8:30pm (down): Big Gay Musical
9pm (up): The Ensemble Project
10:00pm (up): Parallelogramophonograph
Saturday, February 23rd:
6pm (up): Small Town Girl
8pm (down): Grand Misery
8:30pm (up): The Ensemble Project
9:30pm (up): The Well-Made Play
10:30pm (up): Fistful of Kicks (Vancouver)
All shows are 50 minutes long, except for Grand Misery, Small Town Girl, La Vida de los Muertos, and Big Gay Musical, which are about an hour and 45 minutes long.
About the Groups
For almost two years, Fistful of Kicks (Instant Theatre Company) has been rocking stages in Vancouver, Canada with their signature fight-based improv shows.
Fistful of Kicks aims to highlight some of Vancouver's best Asian improvisers creating wild and hilarious stories on stage infused with amazing stage combat. In this show, the performers draws heavily upon their collective cultural upbringings to improvise wonderfully funny performances and create shows that are uniquely their own.
Featured at the Seattle Festival of Improv Theater and the Vancouver International Improv Festival, Fistful of Kicks is one half storytelling, one half comedy, and one half stage combat for three halves of amazing kickassery you won't soon forget!
Based out of Atlanta, Dark Side of The Room is made up of African-American performers of Dad's Garage Theater Company.
Dark Side travels around the city, state, country, and world with their unique improv format and run a show designed to highlight African-American performers across a wide arts spectrum.
In Dark Side's improv format, they take a classic movie (ex: Beetlejuice, Star Wars, Jaws, etc.) where there are often few to no black characters and improvise what the black people were doing during that movie.
Take a vibrantly woke, racially related current event and wrap it in a laugh and references from some of your favorite movies and you've got Dark Side Of The Room. Welcome to the Dark Side.
We're real excited about this. This year for the Improvised Play Festival, we have invited a guest director to put together a show just for the weekend.
The Ensemble Project is a special show assembled by a guest director from Amsterdam, and made up of local performers from Austin.
This year's ensemble show concept will be "Ghost of Love":
A show of multiple love stories: young, old, passionate, bored, budding, recovering, familiar and unusual.
Romantic relationships are filled with words and actions – but maybe even more with what is not said, what is not heard, and what is not expressed.
Which secrets do we hold from each other? What big emotions are we afraid to show? Where does our mind wander to?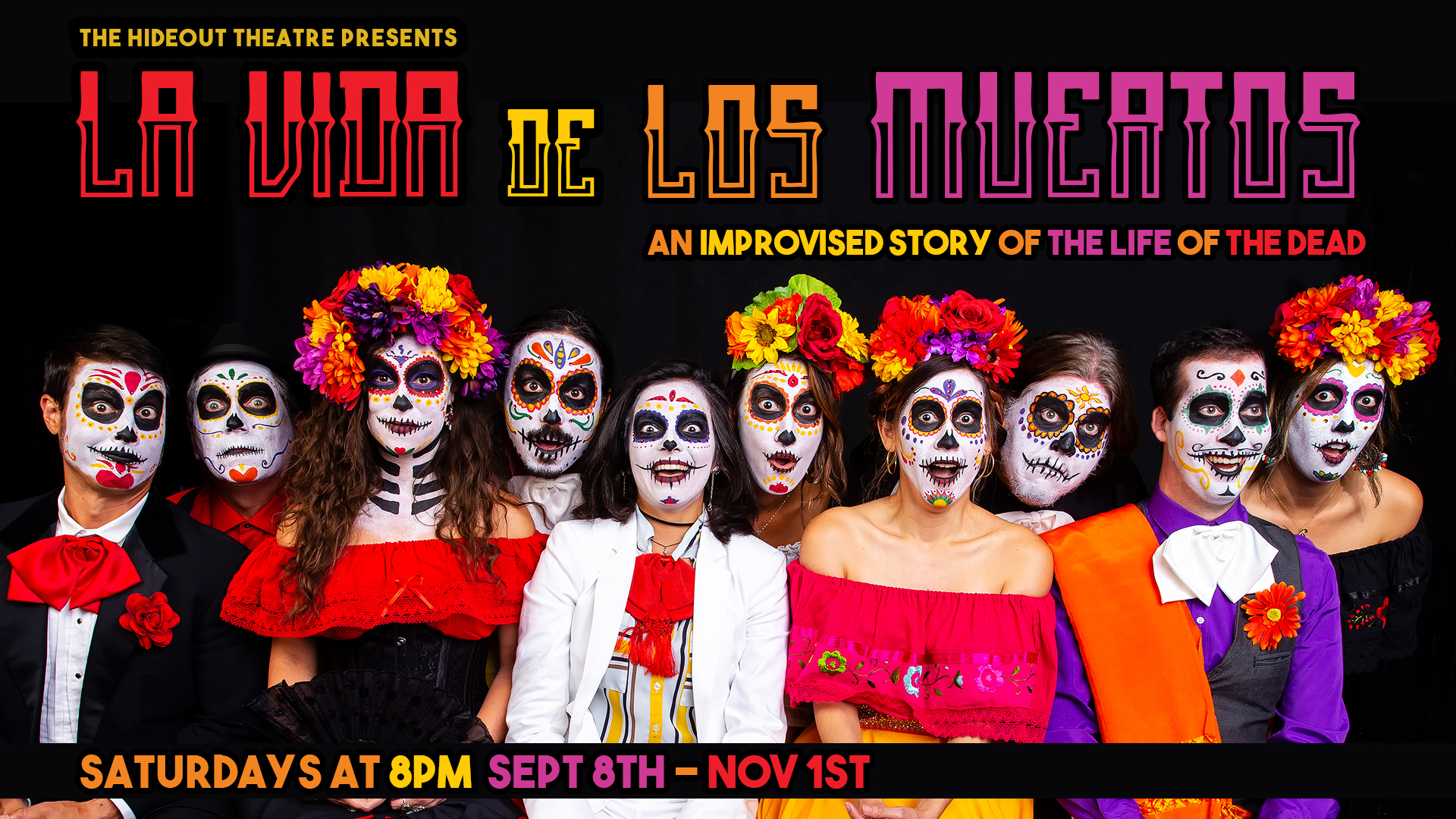 The Hideout Mainstage returns!
La Vida de los Muertos is a fully-improvised story that takes place in the World of the Dead. Watch the Hideout Theatre be transformed into a joyous and fantastical underworld.
La Vida de los Muertos will be accompanied by local mariachi group Crockett High School Mariachi de Oro to round out this magical world and features an all-Latinx cast in full Dia de los Muertos inspired costumes and makeup.
The Hideout Mainstage returns!
Watch as a Big Gay Musical is created before your eyes as an homage to broadway and inspired by true stories from LGBTQIA+- identifying monologists told onstage during the show!
This never-before-seen, never-to-be-seen-again Big Gay Musical will feature queer protagonists, queer love stories and a whole heap of VERY EXTRA queer anthems.
Do you hear the people sing? Singing the songs they're making up?
An epic improvised tragic musical spectacular will be arriving at the Hideout . That musical, inspired by a very popular and very French musical, has never been seen before. And will never be seen again- because it will be completely improvised.
See the stories of triumphant heroes, tragic waifs who belt out songs right before they die, wide-eyed rebels, seedy side characters, lovestruck ingenues, cold-hearted villains — and more — unfold before your eyes.
Our Current Student Mainstage!
Everyone knows that growing up is hard! Small Town Girl is an improvised coming of age tale in the vein of Sixteen Candles, Ladybird, and The Edge of Seventeen.
This show provides a real look at what it's like to grow up as a young woman by exploring the relationships that shape us and the often overlooked and underappreciated beauty of the place we call home.
The Student Mainstage Returns!
The Well-Made Play is patient and confident. It takes its time building up its tension, building up your emotional investment, and when it finally cuts loose, you're right on the edge of your seat.
You're a giddy voyeur on the day when everything counts, and after which nothing can be the same.
The Well-Made Play is a fully improvised, full-length two-act play that takes its cues from traditional theater. Every move from both the cast and technical improvisers feels intentional and scripted. We're confident that you've never seen a show quite like this one!
Shannon Stott and Quinn Buckner are 'Twins', an improv duo creating stories from a black woman's perspective.
As experienced improvisors we've seen the slow positive change on stages but we still often see stories told from a white man's perspective. These stories happen by default and seemingly regardless of the actual demographic on stage. The non-white, non-men subconsciously or consciously do work to get on the same page.
Twins asks the white man to do the work, on stage in front of you. We ask him to help present stories from a perspective not his own, specifically his partner's, a black woman.
Rook is a modern musical improv troupe from Austin, Texas.
Using a unique blend of synth and piano, drama and comedy, improvisation and theatrical training, Rook presents the cutting edge of musical improv. Discovered on the spot, emotional and poignant, hilarious and cerebral, this off-off-off-broadway show will be surprising, delightful, and oh-so-well sung.
With award winning actress Sarah Marie Curry, improvisor extraordinaire Cat Drago, classically trained opera singer Megan Sherrod, and composer and pianist Walter Nichols, Rook is good because of training and amazing because of improv.
Since their premier in November 2005, Parallelogramophonograph has been fiercely dedicated to the craft and art of improvised theatre and has held a weekly show non-stop for more than eight years. Intrigued by the challenge of telling fantastic fully-improvised stories together as an ensemble, PGraph spent years developing original formats and studying the art of theatre, improv and storytelling. They've toured the country and the world performing and teaching their unique brand of improv with ensemble appearances in more than 40 cities in the U.S., Canada, Europe, Australia and the U.K.
Renowned for their theatricality, playfulness, and group-think ensemble, their goal with every show is to push both themselves and the art of improvisation to new and dizzying heights while taking the audience along for a joyous ride. The members of PGraph regularly teach, direct, and perform in shows at The Hideout Theatre in Austin, Texas. Check out PGraph.com for more information.
Ensemble: Kareem Badr Kaci Beeler Roy Janik Valerie Ward
We love big groups! Got a group of 10 or more? Contact us at roy@hideouttheatre.com for information on discounts.
Wanna take a workshop from one of our visiting groups? See the festival workshop schedule here:
https://www.hideouttheatre.com/austin-improv-classes/improvisedplayfestivalworkshops