The Hideout has improv classes for kids of all ages!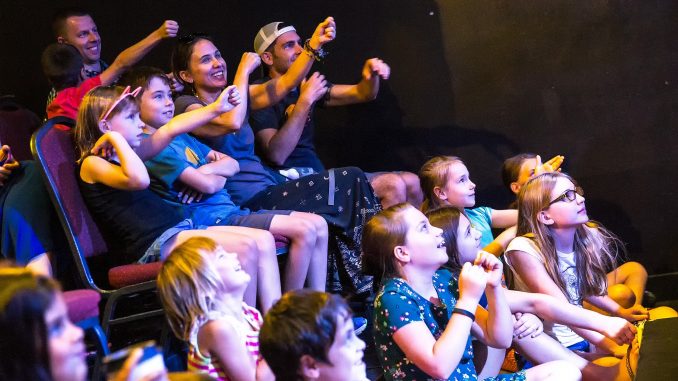 The Hideout has improv classes for kids of all ages!
Why kids' improv classes?
Improv is fun and exciting! Kids enjoy this lively creative outlet.  At the same time they will be learning some valuable skills such as:
Positivity

Communication 

Risk 

management
Working together
Building confidence
Self Expression 
These classes create a fun and supportive environment for kids to learn the basics of creating improv, story telling, and stagecraft. The classes are taught primarily through games, play, and improved stories.
Free Class –
Try before you buy.  We have free classes so that your kiddos can try out the classes. Tuesday, September 3 and Saturday, September 7 – these are at the same times and age groups as the semester long classes. Please register for the class you'd like to attend in the box at the top right of this page.
Class Descriptions:
Story Play (Ages 5-8)
Everyone loves story time. In this class we take our favorite stories and act them out! We play dress up and with puppets and face paint and generally have a great time making our favorite stories come to life!
Fun-damentals of Improv (Ages 8-10)
Learn how be positive, take risks, and focus on the people you're working with. We'll learn about timing, story structure, building character, and more improv games than you can shake a stick at. This class will be a fun and supportive environment for kids to start focusing on what makes improv work.
Improvisational Principles (Ages 11-13)
Jump into some seriously hilarious improv work. Learn how to build exciting stories, create fascinating characters, and present them in the most awe inspiring way. This class is all about jumping in, having fun, playing hard, working together and finding your voice. Always fun, this class will focus on developing improv skills and creating performers.
Preparation for Performance (Ages 14-17)
In this class the topics will be determined by the students and the teachers. In the past we have covered such topics as playing improv games at the top of our ability, creating narratives, delving into deep emotions.  Each member of the class will help determine and shape the class.  Although you will have the opportunity to perform, it is not mandatory. Times and dates for out of class performances will be determined. This is our introduction class for this age range.
Improv for Special Needs
The Hideout Theatre is committed to growing special needs programming, with classes being offered to youth with Autism Spectrum Disorders and to at-risk youth in residential settings via our Building Connections program. Parents have reported that their children have gained a wide variety of benefits from taking classes, including expressive language gains, increased confidence, improved social skills, a decrease in negative behaviors, and an increase in self-expression. More information and registration can be found on our Building Connections Homepage.
Tuesday Homeschool Classes
At the Hideout Theatre – 617 N. Congress Ave.
January 21 – April 21, Skipping 3/17 
Showcase on April 13   
Fun-damentals of Improv Ages 8-10
Tuesdays – 11:00-12:30
Instructor: Jessica Arjet/Jerod Robert Espinosa-Setchko
Fee: $330
Improvisational Principles
Ages 11-13
Tuesdays – 11:00-12:30
Instructor: Megan Sherrod
Fee: $330
Preparation for Performance Ages 14-18
Tuesdays – 1:00-2:30pm
Instructor: Jessica Arjet and Megan Sherrod
Fee: $330
Saturday Classes
At the Annex – 5555 N. Lamar, Suite B103
January 18 – April 25 , skipping 3/14 and 3/21
Showcase on 4/18
Story Play ages 5-8 
Saturdays – 10:00-11:00am
Instructor: Frank Sanchez
Fee: $220
Fun-damentals of Improv Ages 8-10
Saturdays – 10:00-11:00am
Instructor: Chelsea Beth
Fee: $220
Improvisational Principles
Ages 11-13 
Saturdays – 11:00-12:30pm
Instructor: Frank Sanchez
Fee: $330
Preparation for Performance Ages 14-18
Saturdays – 11:00-12:30pm
Instructor: TBD
Fee: $330
Video About Kids Classes and Shows