The Hideout is celebrating 15 years as Austin's premier venue for improvised theatre and comedy. Join us for a weekend of all-star shows and hits from The Hideout's 15-year history.
Thursday: The Best of The Free Fringe – 10pm – Free
Join us Thursday at 10pm for a showcase of the very best of the Free Fringe, our weekly Thursday night show that highlights absurd, experimental, and unusual acts. The "Best of" acts have been voted on by members of the Austin Improv Community.
Featuring: The Floor is Lava, Evil Peter Rogers, Tech Nightmare, and Lady Trek
Friday: The Mega-Theatresports Championship – 8pm – $12
Friday evening brings a very special presentation of Theatresports, the improv show that pits teams of improvisers against each other in a head-to-head competition where anything can happen. In the Mega-Theatresports Championship, audiences will witness our very best students vs students, veterans vs veterans, and all-stars vs all-stars in an unrivaled showcase of team spirit and sportsmanship.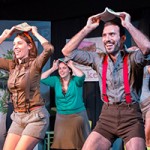 Saturday: Student Mainstage Sampler – 9pm – $10
A new edition to our yearly line-up, our Student Mainstage productions have given our promising and talented new performers a place to showcase new work lead by a seasoned director. This show will give each production a chance to jump back on stage for a rapid-fire sampler. Featuring WTF, After School Improv, Cochise, The Dahl House, Camp Madeuponaspotta, and The Aftermath.
Saturday: All-Star Maestro – 10pm – $12
Maestro is Austin's Longest Running Improv show for a reason! No where else in town do individual performers battle for the audience's favor and improv glory like on the Maestro stage at The Hideout Theatre. 14 improvisers will enter, but only ONE will remain by the end of the show and be crowned The Maestro. This is the show that started it all, and for our 15th Anniversary Weekend we've got a star-studded line-up of performers ready to bring it hard.
Sunday: The Great Wheel of Improvised Theatre – 7:30pm – $10
The Bread-and-Butter of the award-winning work The Hideout does is in our improvised plays and theatrical presentations. In this unique celebration of our theatrical and stylized shows, The GREAT WHEEL OF IMPROVISED THEATRE (yes, an actual wheel) will be spun at random and cast members from 12 past productions will take the stage for a whirlwind 7-minute showcase. Be on the lookout for past audience favorites like Start Trekkin', A Bedtime Gorey, Fakespeare, and many more surprises in this delightful mash-up.