Rock n' Roll and Improv Comedy
Rock n' Roll and Improv Comedy
OIL IN THE ALLEY GUSHES ON AUSTIN WITH ITS UNIQUE IMPROV ROCK'N'ROLL
One Night Only! From Honolulu, Hawaii
8:30 pm at the Hideout Theatre
OIL IN THE ALLEY is a unique music act which features original rock music along with improvisational humor.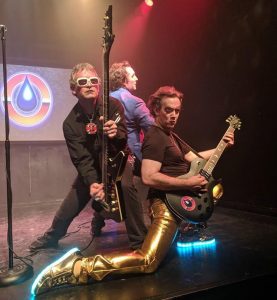 The show's premise is that the band was a hugely famous megasuperstar arena rock act 30 years ago. In performance, the members of the band are always in character; there is no "improviser host" persona asking for suggestions. Instead, the rockers extract ideas for song titles from talking with their megafans in the audience and using ideas from clothing, turns of phrase, and anything else to inspire a song. They then extemporaneously create completely new lyrics to an original rock song as if it were a "Classic" Oil in the Alley hit from their heyday. The audience is invited to play along, experiencing the show as if they were attending the long-awaited return of their beloved ultra-megastar rock act.
OIL IN THE ALLEY has been performing in Honolulu regularly since late 2009 at nearly every theatre and music venue in town; in recent years OIL has also toured nationally, performing in New York City (The Magnet Theatre), Washington, D.C. (The Unified Scene Theatre), Hollywood (The Pack Theatre), and Seattle (The Seattle Improv Festival). They have recorded an album of live material called Sacred Snail, which was nominated for a Hoku Award (the Hawaii grammy) in the comedy album category; it can be downloaded for free from soundcloud.
OIL IN THE ALLEY is R. Kevin Garcia Doyle (Lead Vocals), Sean T.C. O'Malley (Lead Vocals, Guitar), and Bri X (bass). As of this performance, they have improvised over 555 songs onstage.
This performance will mark Sean T.C. O'Malley's homecoming to Austin; Sean was a founding member of the Vortex Theatre in 1989 while he was in graduate school at UT, and in the late 80s he played his original singer-songwriter tunes at the Chicago House, Texadelphia, The Cactus Café, and various open mikes around Austin.