Join the Hideout for some virtual improv games from the comfort of your home! Virtual Summer Camps coming soon!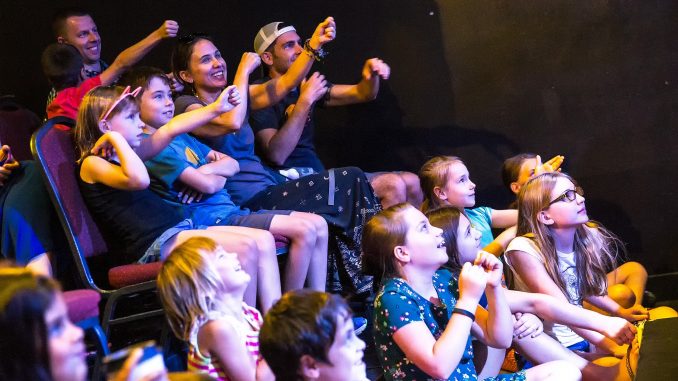 Join Hideout Kids for some virtual improv games from the comfort of your home!
Social Isolation and schools closing means finding creative ways to keep our kids entertained and mentally stimulated.
9-13 yo classes:  Join Hideout Theater's awesome teachers for some virtual improv instruction. They will lead  your kids through some fun age- appropriate games and exercises that you can play while you're stuck in the house. This is different from video games because they are interacting with other kids and they get to join in games that are socially and intellectually stimulating. Classes are divided by age group to make the most of them for the kids there.
5-8 yo classes: Taught by Frank Sanchez – improv teacher extraordinaire. These classes will feature fun activities and games that this age group loves – have some markers and paper close by for optional drawing segments.
Teen Classes: Like the kids classes but scaled up so that teens can enjoy them and socializing with other teens. This class will have more scene work in it.
Weekly Schedule 
Monday 3:30-4:30 -pm – 9-13 yo class
Wednesday 1:00-2:00pm – 5-8 yo class
Wednesday 3:30-4:30pm – 9-13 yo class 
Thursday 3:00-4:00 – Teen Class 
Friday 1:00-2:00pm – 5-8 yo class
Friday 3:30 -4:30pm  – 9-13 yo class 
If you have a group that would like their own class we'd love to help you out with that.  Minimum number of students 6, max 12. Email Jesscia@hideouttheatre.com to schedule!
Classes will be held through Zoom video conferencing app. You can download and install Zoom here. Jessica will send a link to the Zoom meeting to the email addresses registered for the class a few minutes before the start of class.