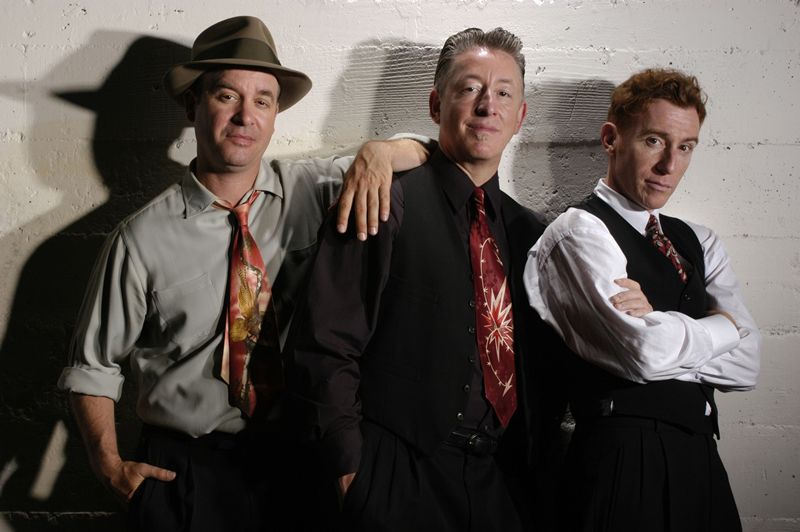 One of our favorite groups of all time is returning to Austin for a two-day weekend intensive. They've headlined Out of Bounds multiple times and are some of the most stone cold professional improvisers you'll ever have the pleasure to work with. Rafe Chase, Stephen Kearin and Tim Orr are 3 For All and you can spend 10 hours with them the last weekend in February.
This workshop will explore both longform and shortform improv, 3 For All-style! You'll work on:
-commitment to character and narrative
-physicality (characters, action, wheres, space objects)
-acting and committing to the emotions of the moment
-the role of specificity, immediacy and prompting each other to do things (sometimes called "pimping")
-starting in the middle, jumping on board and implied history
The workshop will run from 10am-4pm on Saturday and Sunday (Feb 23&24) for a total of ten hours of instruction (with a one hour lunch each day). **The earlybird cost is $200, but it will go up to $220 on February 11.
STEPHEN KEARIN is a founding member of 3 FOR ALL. He began improvising in 1986 and was a founding member of both Improv Theatre and True Fiction Magazine. He performed with Bay Area Theatresports for 14 years. Stephen is currently a member of the critically acclaimed Impro Theatre in Los Angeles. He has appeared in numerous stage productions, including the stilt-walking Iago in San Francisco Opera's Otello, as Sally-Sue Weber in A Weber Family Christmas and he originated the role of Blaine Bustier in An Evening With Dirk & Blaine. Stephen is the co-creator of "Simlish" and was the principal male voice of The Sims, Sims 2.0 and Sims Medieval. He created the Martian languages for Disney's Mars Needs Moms. He is featured in the DreamWorks Animation films Kung Fu Panda, Kung Fu Panda 2 Madagascar 2&3, Monsters Vs. Aliens and Megamind. He stars in The Bunglers, winner of Best Comedic Short at The 2012 Manhattan Film Festival. Stephen is a visiting instructor at Stanford University and Cirque Du Soleil.
The SF Weekly describes RAFE CHASE as one of "the most celebrated figures on the San Francisco improv scene today."
In 1978, after only three months of classes, Rafe began improvising professionally with Flash Family at the Old Spaghetti Factory in North Beach. He left three years later to create the group Riot Squad, which performed both improv and sketch comedy. He served as both the director and head writer.
Joining BATS Improv in 1987 opened up a world of new colleagues and new possibilities. In 1988, while continuing to work with BATS, Rafe became a member of Pulp Playhouse, which performed at the Eureka Theater doing improvised stories in the style of the pulp magazines of the 30's and 40's. The next year he formed Improv Theater, which performed for several seasons at the ACT Playroom. With Rafe as the artistic director, the group would pioneer the exploration and performance of long form improv. He was a member of True Fiction Magazine for five years, from its inception in 1994, and is still a frequent guest with the group.
Currently, Rafe is a member of the critically acclaimed three man group, 3 For All. In his exploration of longform improv, Rafe has created several formats including Critical Choice and Double Feature™. In 2007, he teamed with Gerri Lawlor for a series of two person improv shows. Rafe has taught improv for various institutions, including Stanford University and ACT, as well teaching his ongoing private classes. He has also worked extensively with young people and taught improv at Berkwood Hedge Elementary in Berkeley for three years, to students ranging in age from 5 to 11. His work as a writer includes sketch comedy, lyrics, articles on show business history and the recently self-published comic poem, Alice Is.
TIM ORR has improvised since 1988 with many San Francisco-based groups, including BATS Improv, Rafe Chase's groundbreaking long form troupe Improv Theatre, the renowned True Fiction Magazine, and with the acclaimed troupe 3 For All. In 2009, he founded a new improv group, the Improv Playhouse of San Francisco. He has appeared in numerous plays in the San Francisco Bay Area, and received critical acclaim for his leading roles in the improvised feature films, Suckerfish and Security. With Stephen Kearin, Tim co-wrote, and originated the role of Dirk Manly in, An Evening with Dirk & Blaine. Tim has performed (and taught) improvisation at the American Conservatory Theatre, BATS Improv, Stanford University, and many other venues nationally (Los Angeles, Chicago, New York, Austin, Louisville, Atlanta, etc.) and internationally (Amsterdam, Beirut, Belgium, Helsinki, London, Paris, Saudi Arabia, Stockholm, and Tel Aviv). He has served for many years as the Director of the BATS Improv Long-Form Intensive.