48 Hour Improv Marathon
Buy Tickets
"…sharp, focused, and riotously funny!"- The Austin Chronicle
*Winner of a 2010 Austin Critic's Table Award*
The Marathon is over and was a rousing success! Behold The Wall of Friends to see a list of all the people who donated $25 or more to our GoFundMe page: http://www.hideouttheatre.com/thewalloffriends
Click here to expand and view the COMPLETE, searchable schedule
| Hour | Day | Time | Group/Show | Description |
| --- | --- | --- | --- | --- |
| 1 | Friday | 5PM | Kid Mixer | The Kids from the Hideout Summer Camp get the Marathon kickstarted right. |
| 2 | Friday | 6PM | And They're Off | The core cast gets to know one another in this anything-goes hour |
| 3 | Friday | 7PM | Start Trekkin' | The Hideout's hit take on the original Star Trek Series. Set phasers to 'fun'. |
| 4 | Friday | 8PM | Fancy Pants | The Fanciest Pantiest improv show in the Galaxy! |
| 5 | Friday | 9PM | Physics Curse | Physics Curses' The Witching Hour spins an eerie tale of mystery that will leave you with goosebumps. |
| 6 | Friday | 10PM | PGraph | This award-winning, internationally touring group blends humor, drama, and storytelling in unexpected ways. |
| 7 | Friday | 11PM | Fuck This Week | A team of Austin's fastest, funniest comedians explore the week's weaknesses. |
| 8 | Saturday | 12AM | Immigrants! | A musical hip-hop show about an immigrant's journey that will open at the Institution June 19. |
| 9 | Saturday | 1AM | The Knuckleball Now | The fastest, quickest-wits in town. Scenes, characters, puns and plot-twists speed by in a rollercoaster of laughs. |
| 10 | Saturday | 2AM | ColdTowne | The Bat: improv in the dark... AKA a cruel trick to play on the Marathoners |
| 11 | Saturday | 3AM | Golden | Improvised silent stories and scenes using only facial expressions, emotional noises, body language, and spacework. |
| 12 | Saturday | 4AM | I'll Take the Physical Challenge | Improv + Torture! Double Dare meets Dystopia! This game show pushes the limits of what improvisers can take, both mentally and physically. |
| 13 | Saturday | 5AM | Intimate Portraits | Scenes about something calm. Something personal. A chance to chill out. |
| 14 | Saturday | 6AM | Tech Nightmare | The tech booth rebels and controls the performers with random sounds, lighting cues, and music. |
| 15 | Saturday | 7AM | AJAR | AJAR lovingly pokes fun at and celebrates those dauntless individuals who attempt to pen the next great American novel. |
| 16 | Saturday | 8AM | History Under the Influence | An improvised (and sleep-deprived!) episode of Drunk History. Really tired people. Really dunk narrator. |
| 17 | Saturday | 9AM | ROOK | A modern musical improv troupe that uses a unique blend of synth and piano, drama and comedy, improvisation and theatrical training. |
| 18 | Saturday | 10AM | Building Connections | Students from the Building Connections improv classes join the Marathoners. This program is what we're raising money for! |
| 19 | Saturday | 11AM | Rewind | The ultimate improvised do-over comedy, inspired by time loop stories like Groundhog Day and Run Lola Run |
| 20 | Saturday | 12PM | Control Issues | A really awesome show we were forced to change the name of. Formerly "Choose Your Own Adventure." The audience decides the fate of the story. |
| 21 | Saturday | 1PM | The Fast Fringe | Audience members pitch ideas for 15 minute sets. |
| 22 | Saturday | 2PM | Dubbed Indemnity | Famous movie and TV clips have had their sound removed, and it's up to the cast to dub new dialogue. Challenging and hilarious. A Marathon Tradition! |
| 23 | Saturday | 3PM | Charles Dickens Unleashed! | The classic Hideout Mainstage returns: Improvised Tales of Victorian England in the style of Charles Dickens |
| 24 | Saturday | 4PM | One Day Down | The last hour of the first day... and a brief respite for the core 8 to do whatever they want. This is when they need you the most. Come cheer them on. |
| 25 | Saturday | 5PM | Girls Girls Girls | An improvised Broadway-style musical by the award-winning, long-running group. |
| 26 | Saturday | 6PM | Buddy Cop: Metro City Nights | an improvised narrative in the style of buddy-cop films (Lethal Weapon, 48 Hours,The Heat.) |
| 27 | Saturday | 7PM | The Frank Mills | The legendary lmprov group The Frank Mills present their brand of character and relationship based storytelling. |
| 28 | Saturday | 8PM | How I Saved the World Over Summer Vacation | An Improvised 1980s Sci-Fi Adventure ala Goonies, Stranger Things, and E.T. |
| 29 | Saturday | 9PM | How I Saved the World Over Summer Vacation Hour 2 | An Improvised 1980s Sci-Fi Adventure ala Goonies, Stranger Things, and E.T. Hour 2! |
| 30 | Saturday | 10PM | Maestro 2.1 | The Hideout's longest-running improv show. Elimination-style improv games and scenes! |
| 31 | Saturday | 11PM | Maestro 2.2 | The Hideout's longest-running improv show. Elimination-style improv games and scenes! Hour 2! |
| 32 | Sunday | 12AM | Puppet Improv Project | What's better than improv with puppets? Improv with puppets starring improvisers who haven't slept in 32 hours. A Marathon tradition! |
| 33 | Sunday | 1AM | Amazon and the Milksop | Their Marathon shows are always a blast. This will be something crazy. And awesome. And crazy. |
| 34 | Sunday | 2AM | The Black Vault | Improvised Cosmic horror inspired by H.P. Lovecraft |
| 35 | Sunday | 3AM | Gigglepants | The boisterous group from The University of Texas (one of Austin's longest running groups) joins the fray and brings the games. |
| 36 | Sunday | 4AM | Bad Is Good | Our worst fears about performance woven into gold through improv alchemy. Based on a show from Vancouver. |
| 37 | Sunday | 5AM | The Secret Show | what's this gonna be? WHO KNOWS? A Marathon Tradition |
| 38 | Sunday | 6AM | The Matriarchy | The Matriarchy takes their fast paced and fun improv style to the Marathoners. Will they be able to keep up? |
| 39 | Sunday | 7AM | Franz and Dave Present Pine Falls | A small town full of dark secrets... A bizarre crime... A colorful cast of oddballs... and Franz Kafka and David Lynch. |
| 40 | Sunday | 8AM | To Be Revealed | Stay Tuned! |
| 41 | Sunday | 9AM | MC Harold | Improvised Hip Hop Comedy from the hardest working troupe in showbiz. |
| 42 | Sunday | 10AM | Patti's Playhouse | This show will be whatever our guest from Australia, Patti Stiles, wants to do with the hour. |
| 43 | Sunday | 11AM | Minority Report | Minority Report brings back their hit format, the 'Living Room Mono-pop', mixing real life with improv! |
| 44 | Sunday | 12PM | Austin/Austin | Austin/Austin sail the high seas with adventure, action, and more! |
| 45 | Sunday | 1PM | What's the Story, Steve? | What's the Story Steve features Austin's current canine comedy king, Steve Scott (a real dog!). All laughs, all the time. |
| 46 | Sunday | 2PM | Peter Pan and the Great Unknown | Brand new (and improvised) tales of Peter Pan, Neverland, and all the people and creatures that live therein! |
| 47 | Sunday | 3PM | Fakespeare | An improvised play in the style of William Shakespeare, and an insane feat for Marathoners near the finish line to complete. |
| 48 | Sunday | 4PM | Final Show | The victory lap of the 8 core Marathoners. They're free to do whatever they like... except sleep. |
At 5:00pm on Friday June 23, 2017, eight brave and foolish improvisers will take the Hideout stage and stay there until 5pm on Sunday the 25th, performing 48 STRAIGHT HOURS of improvisational theatre and comedy without sleep or respite.
Each hour of the marathon will be a separate show, featuring classic and upcoming Hideout formats, one-off shows never to be seen again, and guest troupes and players from Austin's ever-growing improv community.
Each hour of the marathon will cost $5 to watch. An all-access Marathon pass is available for $48, which, if you're crazy brave enough to see all the shows, is a HUGE savings!
This year's marathon improvisers will be Craig Kotfas, J.R. Zambrano, Katie Dahm, Margaret Rose, Patti Stiles, Rob Yoho, Ryan Austin, and Yamina Khouane.
This year's marathon will also be a fundraiser to raise money for The Hideout Youth Program. Our goal this year is $5000. For the entire marathon, we'll be collecting donations from people like you clicking the donate buttons when checking out or visiting our GoFundMe.
Click here to learn more about each of the Marathoners
J.R. Zambrano is an Austin area actor, improviser, and writer. He's been in a number of productions with the Hideout Theatre recently, including Process, Fiasco, and I'll Take the Physical Challenge. He's currently directing 'How I Saved the World Over Summer Vacation' the current mainstage at the Hideout. He is currently cast in the upcoming show 'The Kindness of Strangers' at the Hideout in July and August.
Katie Dahm is an improvisor, actor, and a native Austinite. She has performed narrative and short-form improv in Austin since 2010. Recent performances include the Hideout Theatre's Start Trekkin': Improvised Episodes Based on the Original Series, Peter Pan and the Great Unknown, and Process: An Unscripted Scripted Play. Katie is a returning marathon player, her first marathon was in 2014 during the 45 Hour Improv Marathon.
Margaret Rose Hunsicker is an improviser, teaching artist, director and actor who has lived in Austin for only a few years. She originally hails from Orlando, where she studied interactive theatre and played various ghouls and demons at Universal Studios. Today, she spends her time doing as much improv as possible, teaching kids social and emotional skills using theatre through Creative Action, and teaching kids' improv classes at the Hideout Theatre. Her recent stage credits include For Time and Eternity (Eliza R. Snow, Ensemble) Peter Pan and the Great Unknown (Asst. Director and Cast), I'll Take the Physical Challenge (Valentina), and Coven (Director). She will be performing in the upcoming show 'The Kindness of Strangers' at the Hideout in July and August.
Patti Stiles, known throughout the world as the 'Queen of Improvisation', is an actor, director, playwright, teacher and improvisation artist living in Australia. She is currently the Artistic Director of Die Nasty AU, co-Director of Secret Impro Theatre, and Impro Melbourne. She received her training at Calgary, Alberta's world-renowned Loose Moose Theatre under the famous Keith Johnstone. It was there she worked intensively with Keith Johnstone in many forms of improvisation. Patti has performed regularly in Theatresports™, Maestro Impro™, Gorilla Theatre™ and Life Game™ as well as performing in Keith's plays, directing and performing in the Theatre For Kids program and touring productions. She has also created many formats including Momentos De La Vida, How The West Was Improvised, Mortal Coil, Élan Vital, Lugares and her duo with Joe Bill 'Our Play'. Her understanding and interpretation of Johnstone's work and philosophy, combined with her wealth and experience on the world improv stage, has made her a 'must have' teacher for performers and companies all over the world. Patti is no stranger to marathons, to her many list of credits, she also holds the unofficial record for being the first female to improvise for 53 hours in the famous Die Nasty soap-a-thon.
Rob Yoho is an Austin transplant from Cocoa Beach, FL (which explains why he lives here now), and he works on the management team of The Hideout Theatre. He has taught theatre and improv internationally to people of all ages – from kindergarteners to retirees and everything in between. He earned an MFA in Directing from Baylor University, and during his time there, he taught undergraduate courses in Theatre Appreciation and Acting for Non-Majors (which, of course, had a lot of improv in it). He improvises locally with AJAR, Heavens Mr. Darcy, and Fish Suitcase. He helped create the improvised Greek tragedy It's All Greek to Me, assisted directed I'll Take the Physical Challenge at The Hideout Theatre, and is the director of The Kindness of Strangers: Improvised Tennessee Williams Plays.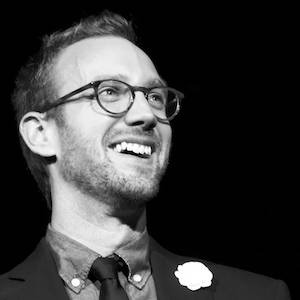 Ryan began improv classes at The Hideout Theatre in May 2011. He graduated with a BFA in screenwriting and that love of story has kept him fully engaged in improv storytelling. He has been a member of Starborn, Local Genius Society and Past Lives. He has performed in many Hideout shows, most recently, 'Theatresports'. He has co-directed the Hideout mainstage record breaking show 'Happily Ever After' and more recently the Hideout student mainstage 'All You Need is Love'. He currently performs with Austin/Austin.
Yamina is an actor and improvisor based out of Austin, TX. She has improv comedy training from The New Movement (TNM) theater and UCB NY. In her 10 years of doing improv, she has performed at Fun Fun Fest, the Del Close Marathon, Sound on Sound Fest, and the Out of Bounds Comedy Festival. She also is a cast member of the Latino Comedy Project, who are celebrating their 20th anniversary with their show "Gentrif*cked" (San Francisco Sketch Fest). You can catch Yamina every Monday at TNM with F*ck This Week.
As a 5th grader, Craig Kotfas performed in his first organized stage production, and soon made his way through the successful Gregory-Portland High School Theatre Department back in the early 90s, down in South Texas. It was then he first performed improv for paying crowds, including bars that he was too young to be in. This was Joker's Wild, which was focus on games. Craig studied Communication Design at Texas State (as SWT) from 95-2000. In 1998, before planting roots in Austin, he audition for Sean Hill's new improv outlet, Austin Theatresports/We Could be Heroes/Heroes of Comedy, which helped get the Hideout off the ground under Sean's vision. This was more focused on the narrative ways of Keith Johnstone. In 2004, CK cofounded the "Peak & Pop" ways of The Knuckleball Now, (sort of a rapid fire of narrative scenes with a game-time energy and enthusiasm) and has continued to evolve with several rounds of super talents. Offstage, he's head graphic designer at High Brew Coffee (Cold-Brew). As a singer/songwriter he has two albums available on iTunes/Spotify. As a Cubs fan, he still smiling…At home, he enjoys the "quietness" with his lovely wife Shamayne Olivia. Over 15 years he's watched her 3 children grow into wonderful adults, with families of their own. Yes, Craigy is a proud grandpa now!!
Click here to expand and view the COMPLETE, searchable schedule
| Hour | Day | Time | Group/Show | Description |
| --- | --- | --- | --- | --- |
| 1 | Friday | 5PM | Kid Mixer | The Kids from the Hideout Summer Camp get the Marathon kickstarted right. |
| 2 | Friday | 6PM | And They're Off | The core cast gets to know one another in this anything-goes hour |
| 3 | Friday | 7PM | Start Trekkin' | The Hideout's hit take on the original Star Trek Series. Set phasers to 'fun'. |
| 4 | Friday | 8PM | Fancy Pants | The Fanciest Pantiest improv show in the Galaxy! |
| 5 | Friday | 9PM | Physics Curse | Physics Curses' The Witching Hour spins an eerie tale of mystery that will leave you with goosebumps. |
| 6 | Friday | 10PM | PGraph | This award-winning, internationally touring group blends humor, drama, and storytelling in unexpected ways. |
| 7 | Friday | 11PM | Fuck This Week | A team of Austin's fastest, funniest comedians explore the week's weaknesses. |
| 8 | Saturday | 12AM | Immigrants! | A musical hip-hop show about an immigrant's journey that will open at the Institution June 19. |
| 9 | Saturday | 1AM | The Knuckleball Now | The fastest, quickest-wits in town. Scenes, characters, puns and plot-twists speed by in a rollercoaster of laughs. |
| 10 | Saturday | 2AM | ColdTowne | The Bat: improv in the dark... AKA a cruel trick to play on the Marathoners |
| 11 | Saturday | 3AM | Golden | Improvised silent stories and scenes using only facial expressions, emotional noises, body language, and spacework. |
| 12 | Saturday | 4AM | I'll Take the Physical Challenge | Improv + Torture! Double Dare meets Dystopia! This game show pushes the limits of what improvisers can take, both mentally and physically. |
| 13 | Saturday | 5AM | Intimate Portraits | Scenes about something calm. Something personal. A chance to chill out. |
| 14 | Saturday | 6AM | Tech Nightmare | The tech booth rebels and controls the performers with random sounds, lighting cues, and music. |
| 15 | Saturday | 7AM | AJAR | AJAR lovingly pokes fun at and celebrates those dauntless individuals who attempt to pen the next great American novel. |
| 16 | Saturday | 8AM | History Under the Influence | An improvised (and sleep-deprived!) episode of Drunk History. Really tired people. Really dunk narrator. |
| 17 | Saturday | 9AM | ROOK | A modern musical improv troupe that uses a unique blend of synth and piano, drama and comedy, improvisation and theatrical training. |
| 18 | Saturday | 10AM | Building Connections | Students from the Building Connections improv classes join the Marathoners. This program is what we're raising money for! |
| 19 | Saturday | 11AM | Rewind | The ultimate improvised do-over comedy, inspired by time loop stories like Groundhog Day and Run Lola Run |
| 20 | Saturday | 12PM | Control Issues | A really awesome show we were forced to change the name of. Formerly "Choose Your Own Adventure." The audience decides the fate of the story. |
| 21 | Saturday | 1PM | The Fast Fringe | Audience members pitch ideas for 15 minute sets. |
| 22 | Saturday | 2PM | Dubbed Indemnity | Famous movie and TV clips have had their sound removed, and it's up to the cast to dub new dialogue. Challenging and hilarious. A Marathon Tradition! |
| 23 | Saturday | 3PM | Charles Dickens Unleashed! | The classic Hideout Mainstage returns: Improvised Tales of Victorian England in the style of Charles Dickens |
| 24 | Saturday | 4PM | One Day Down | The last hour of the first day... and a brief respite for the core 8 to do whatever they want. This is when they need you the most. Come cheer them on. |
| 25 | Saturday | 5PM | Girls Girls Girls | An improvised Broadway-style musical by the award-winning, long-running group. |
| 26 | Saturday | 6PM | Buddy Cop: Metro City Nights | an improvised narrative in the style of buddy-cop films (Lethal Weapon, 48 Hours,The Heat.) |
| 27 | Saturday | 7PM | The Frank Mills | The legendary lmprov group The Frank Mills present their brand of character and relationship based storytelling. |
| 28 | Saturday | 8PM | How I Saved the World Over Summer Vacation | An Improvised 1980s Sci-Fi Adventure ala Goonies, Stranger Things, and E.T. |
| 29 | Saturday | 9PM | How I Saved the World Over Summer Vacation Hour 2 | An Improvised 1980s Sci-Fi Adventure ala Goonies, Stranger Things, and E.T. Hour 2! |
| 30 | Saturday | 10PM | Maestro 2.1 | The Hideout's longest-running improv show. Elimination-style improv games and scenes! |
| 31 | Saturday | 11PM | Maestro 2.2 | The Hideout's longest-running improv show. Elimination-style improv games and scenes! Hour 2! |
| 32 | Sunday | 12AM | Puppet Improv Project | What's better than improv with puppets? Improv with puppets starring improvisers who haven't slept in 32 hours. A Marathon tradition! |
| 33 | Sunday | 1AM | Amazon and the Milksop | Their Marathon shows are always a blast. This will be something crazy. And awesome. And crazy. |
| 34 | Sunday | 2AM | The Black Vault | Improvised Cosmic horror inspired by H.P. Lovecraft |
| 35 | Sunday | 3AM | Gigglepants | The boisterous group from The University of Texas (one of Austin's longest running groups) joins the fray and brings the games. |
| 36 | Sunday | 4AM | Bad Is Good | Our worst fears about performance woven into gold through improv alchemy. Based on a show from Vancouver. |
| 37 | Sunday | 5AM | The Secret Show | what's this gonna be? WHO KNOWS? A Marathon Tradition |
| 38 | Sunday | 6AM | The Matriarchy | The Matriarchy takes their fast paced and fun improv style to the Marathoners. Will they be able to keep up? |
| 39 | Sunday | 7AM | Franz and Dave Present Pine Falls | A small town full of dark secrets... A bizarre crime... A colorful cast of oddballs... and Franz Kafka and David Lynch. |
| 40 | Sunday | 8AM | To Be Revealed | Stay Tuned! |
| 41 | Sunday | 9AM | MC Harold | Improvised Hip Hop Comedy from the hardest working troupe in showbiz. |
| 42 | Sunday | 10AM | Patti's Playhouse | This show will be whatever our guest from Australia, Patti Stiles, wants to do with the hour. |
| 43 | Sunday | 11AM | Minority Report | Minority Report brings back their hit format, the 'Living Room Mono-pop', mixing real life with improv! |
| 44 | Sunday | 12PM | Austin/Austin | Austin/Austin sail the high seas with adventure, action, and more! |
| 45 | Sunday | 1PM | What's the Story, Steve? | What's the Story Steve features Austin's current canine comedy king, Steve Scott (a real dog!). All laughs, all the time. |
| 46 | Sunday | 2PM | Peter Pan and the Great Unknown | Brand new (and improvised) tales of Peter Pan, Neverland, and all the people and creatures that live therein! |
| 47 | Sunday | 3PM | Fakespeare | An improvised play in the style of William Shakespeare, and an insane feat for Marathoners near the finish line to complete. |
| 48 | Sunday | 4PM | Final Show | The victory lap of the 8 core Marathoners. They're free to do whatever they like... except sleep. |

WE WOULD LIKE TO THANK OUR 2017 SPONSORS: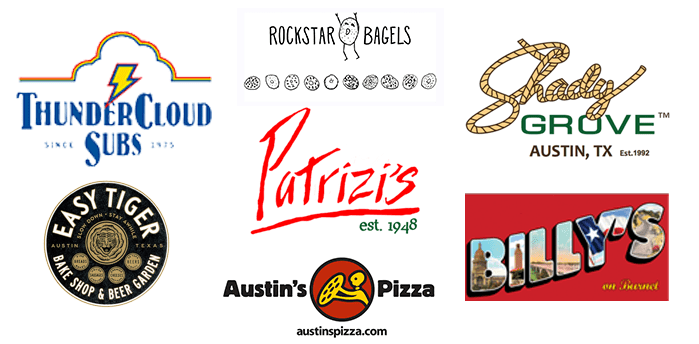 Billy's on Burnet, Easy Tiger, Austin's Pizza, Rockstar Bagels, Shady Grove, Patrizi's
Upcoming Shows Questions? Read our FAQ