Intro to Dramaturgy
Register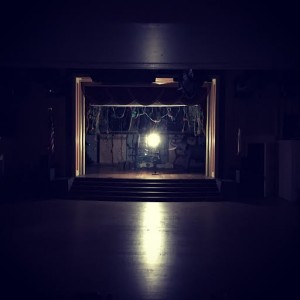 Ghost Light: An Introduction to Dramaturgy with Lindsey McGowen
Sundays, October 15 –  November 19, 8-10pm
What makes an 80s coming-of-age story an 80s coming-of-age story? Why do we instinctively know what a Tennessee Williams play sounds like? How do you make short-form look like an immersive video game?
Dramaturgy answers questions like these.
At its highest level, Dramaturgy is the art of shaping a story into a form that can be acted. In a scripted production, the dramaturg acts as the playwright's representative on the production team, keeper of the knowledge of the social, historical, and artistic context of the work, and provides a full literary breakdown of the text. In improv, dramaturgy tells us how to research for a genre-based show, how to think critically about which tools to keep in our narrative toolbox, and why we do live theater in the first place. No matter what the production, a dramaturg's knowledge inspires acting, directing and design choices.
In this six week class, Lindsey will introduce you to dramaturgy, and to the invaluable guidance it provides improvisors. No matter what your position in an improv show — actor, director or tech — knowing where you've come from directs where you are going.
"The idea of the ghostlight on the stage in a dark theater is very, very magic. You see that little glow on stage, you can see the edge of the proscenium, like 'Wow, we're in this place where anything can happen, who knows what ghosts are lurking around and what wonderful shows have been here before.'" — Michael Mark Chemers
Lindsey McGowen has a BA in Technical Theater (Stage Management & Lighting Design) from Case Western Reserve University, and after moving to Austin from Detroit in early 2014, she quickly made herself a go-to person for technical theater needs in the area. In addition to working on Hideout mainstages such as Boy, Howdy!, Peter Pan & the Great Unknown, Fiasco and How I Saved the World Over Summer Vacation, she was also a technical improviser and stage manager for both the 2014 and 2015 B. Iden Payne Award-winning shows Hurly Burly and Nothing & Everything: Improvised Chekhov Plays. She is currently serving as Co-Technical Director of the Hideout Theatre which includes Master Electrician duties and management of all Mainstages. She also appeared on Jeopardy! in 2013.
$145 / Six Weeks (2 hours each week) / Limited Space **Class held at Hideout Studios – 2505 E 6th St, Unit C
Upcoming Sessions